German lessons in the Deutschkolleg in Corona times
German courses in the Deutschkolleg in Corona times
Since the beginning of the Corona pandemic in spring 2020, the Deutschkolleg has been successful in preventing chains of infection in our courses.
To make sure that we're all protected against Covid-19 in future, and that we won't have to do online lessons because of quarantine, we'll keep to some rules.
At this time we are planning our courses with 4 attendance and one online day per week.
In case it might become necessary, e.g. because of a mandatory quarantine for the entire class, we are prepared to change to more online classes temporarily.
A precondition for joining our courses is that you are able to come to attendance classes.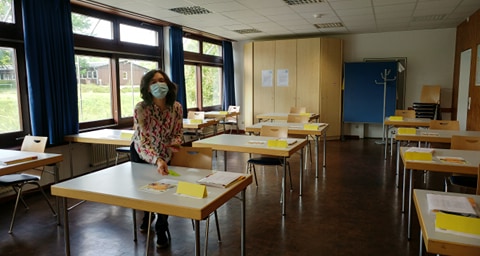 What you need to know about online classes
Similar to attendance classes, online classes follow certain phases, i.e.:
Video instructions with all students in your class
self study, partner and group work
For parts of the course the teacher might not be visible on your screen, she will however, be there for you, supervising your results, offering help and giving feedback.
The key to success in online and offline classes is your willingness and your ability to work autonomously.
As technical equipment has proved itself:
A laptop/computer (Windows 7 SP1 or higher/Mac OS X), a tablet or (less recommendable) a smartphone (Android from version 5, iOS from 11 on)
internet connection with at least 500Kbit/s per user.
In order to do the exercises in the best possible manner, earphones and a headset would be helpful.
Your browser (Mozilla Firefox, Google Chrome, Microsoft Edge, Safari) should be updated to the latest version: You might need to activate JavaScript in the security settings.
Do you have any questions? – Contact us:
info@deutschkolleg-stuttgart.de
Telefon: +49-711-687068-18
WhatsApp: +49-1520-3645556
Deutschkolleg Stuttgart
Allmandring 6
70569 Stuttgart
www.deutschkolleg-stuttgart.de